---
*Next play reading – Monday November 6th*
A week earlier than our usual 2nd Monday, and a week too late for Halloween, we'll be reading 2.22 A Ghost Story, which has been very successfully scaring and entertaining West End audiences since 2021. Visit the Play Readings page for more details.
---
Wanted!
A BUNCH OF SKILLED BACKSTAGE OPERATORS
STAGE MANAGER This comedy has 17 scenes, taking place in 5 separate locations, using one main set with 4 simple variations to accomplish the settings. Over 100 sound cues; approximately the same number of lighting cues. A black hand gang of 2 or 3 will be needed by you. Busy, busy …..
LIGHTING DESIGN Presumably the same person, but not necessarily.
AND OPERATOR Busy lighting plot, 6 main areas to be lit independently.
All indoor scenes. One huge thunderstorm with lightning. One press conference with flashing camera lights. More press flashing lights in the storm scene. Never a dull moment with 17 scenes to cover. The in-house Merlin lighting technician will be able to rig the lights, if required.
SOUND OPERATOR All sound effects and music (approx. 120 cues) have been recorded on QLab4. Operation will require a very focussed mind, as timing is critical for almost all. Ideally, the operator would attend quite a few of the later rehearsals, as the sound is often an integral part of the action, with cast acting with it and as a result of it. If you aren't familiar with QLab4, training can be provided.
PROPS A very large number of props are needed ( a full list is already available on request) but most are readily available. A working mobility scooter (at no cost to us!) is the difficult one!
PROMPTER Er………..
PLEASE GET IN TOUCH IF YOU ARE INTERESTED IN ANY OF THE ABOVE. THERE ARE TWO
INTRODUCTORY SESSIONS ON 20 AND 23 NOVEMBER AT THE GEORGE IN FROME STARTING
AT 7.30pm (Balcony Room). ALTHOUGH THESE ARE OPTIONAL OF COURSE, IT MIGHT HELP
ENORMOUSLY FOR YOU TO GET TO KNOW PROPERLY THE PLAY VERY EARLY ON. YOU WILL
NOT BE ASKED TO READ OR JOIN IN ANY WORKSHOP ACTIVITY (UNLESS YOU WANT TO!)
Richard Wright    richardwrightwells@btinternet.com
---
Audition Notice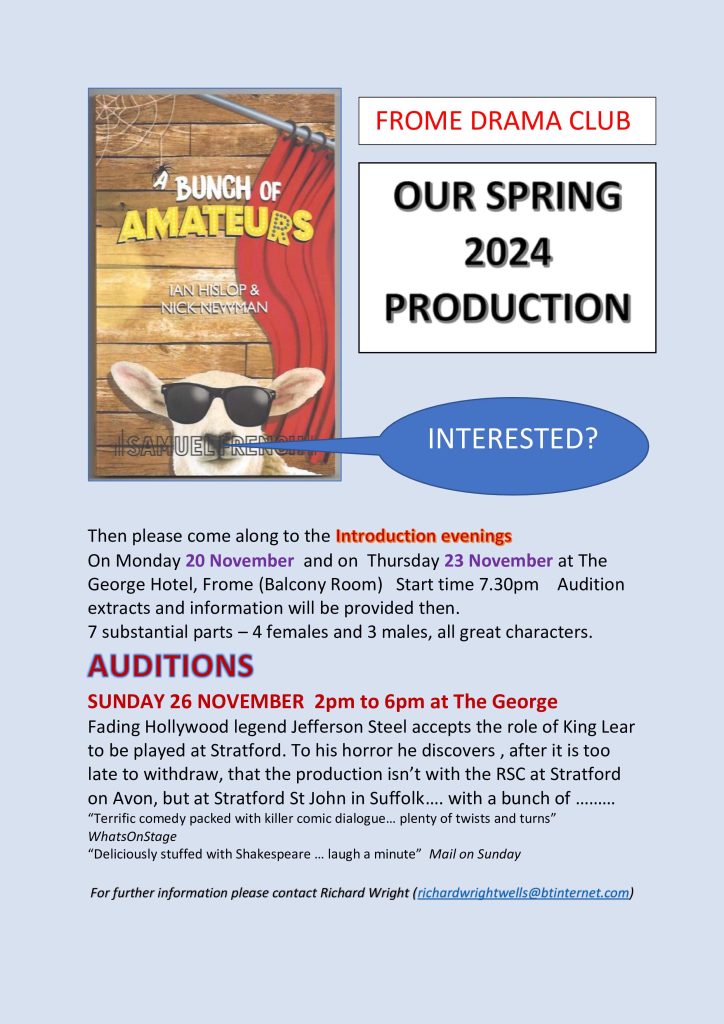 ---
Celebration Thank You
Frome Festival 2023 turned out to be a triumph for Frome Drama as Simon Blacksell's visceral and immersive production of Harold Pinter's Celebration delighted audiences and critics alike.
Simon was fortunate to have an experienced producer his long standing friend and Frome Drama stalwart, Richard Sudworth, and also the extra help of FDC Committee Co Chair Angela Fairgrieve .
Held over three July evenings a team of hard working, creative and enthusiastic Frome Drama supporters transformed the Assembly Rooms to a swanky London eaterie. Guests were greeted and seated by our marvellous Front of House Team who went above and beyond to ensure the ambience was just as Pinter had intended. This was team work at its absolute finest!
We are also indebted to FDC member Alan Burgess who along with Janie delivered a brilliant pre show show – an atmospheric cabaret to set the scene whilst guests were treated to table service by our character waiters.
Our cast arrived at their tables amidst the rest of the guests and the action started seamlessly whilst our audience sipped on their sauvignons.
Celebration is a short play but certainly it packs a punch. Our cast did a brilliant job of delivering a challenging script with elegance and flair – but with menace and magic. It was all a bit bonkers and laugh out loud funny.
But don't just take my word for it. Here is a selection of some of the feedback we received:
This brilliant cast brings out every nuance of Pinter's elusive script.
What an excellent setting, and uniformly great performances. If you have tickets, get there early and enjoy the immersive show.
We were bowled over by the production. Congratulations to all!
Bravo Team Celebration! Heartfelt thanks to everyone who made this the joy it was. It was a blast from start to finish. Lovely friendships created or rekindled and a fitting testament to what our club is about ; sharing our love of drama, bringing to life beautifully written texts and having fun!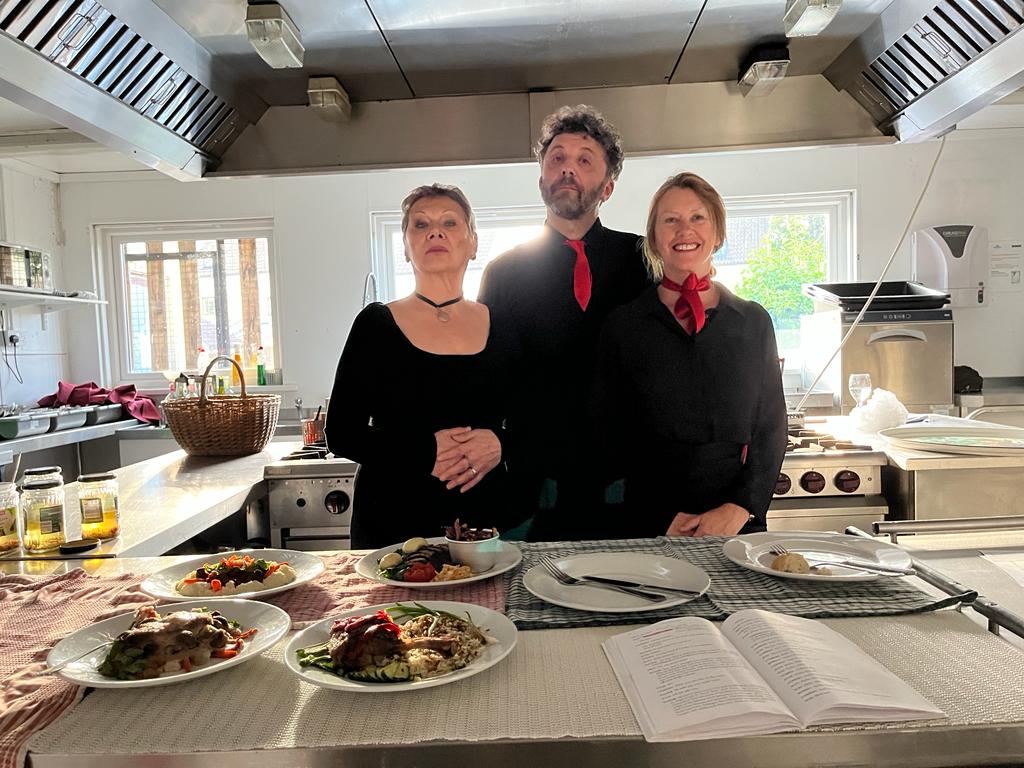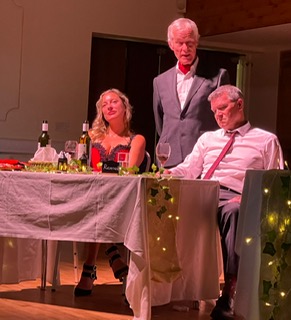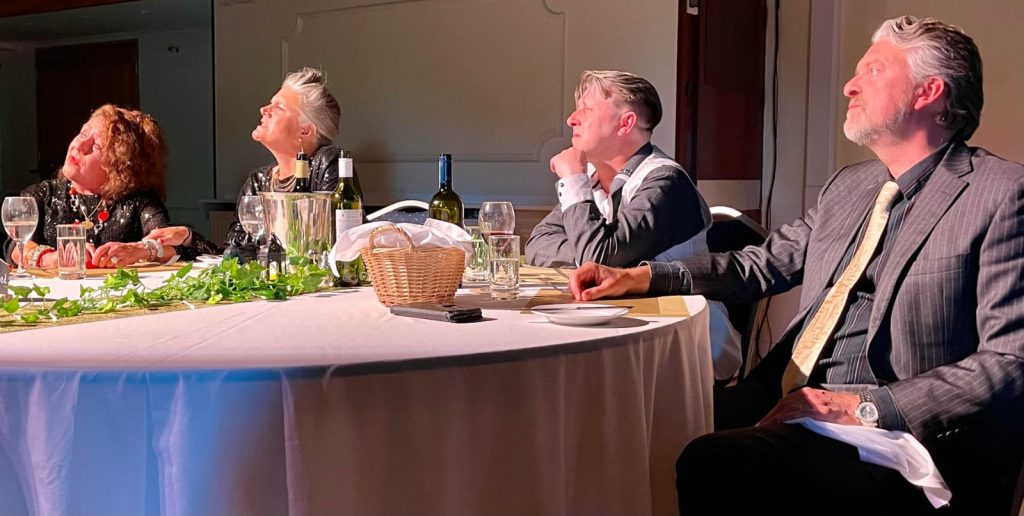 ---
Audition Notice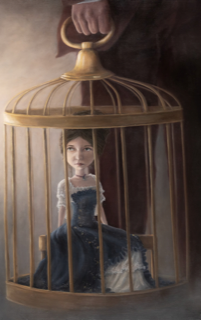 We are excited to announce that, for their November play, Frome Drama will present A Doll's House by
Henrik Ibsen
This amateur production will be performed at The Merlin Theatre, Frome on 16, 17, 18 November 2023
Directed by John Palmer.
Auditions will take place at: The George Hotel, High St, Frome BA11 1AF (Balcony Room)on Tues 27 June and Monday 3 July 2023
About the Audition Process Anyone is welcome to audition, though you will need to become a member of Frome Drama if cast in the play (membership is currently £15/ year or £5 for students or unwaged)You need only attend one of the evening sessions.
Please email fdcdollshouse@gmail.com to book your slot and let us know which session you can attend. You will then be given script extracts to be used at audition.You do not need to learn these extracts but should familiarise yourself with them.Registration will be open from 7pm and there will be someone in the bar to explain the process.Please feel free to purchase a drink at the bar which you can take with you in to the audition room.The workshop will commence at 7.30 pm. Any queries or questions, please email John Palmer, Director – fdcdollshouse@gmail.com
About the Play
Nora and Torvald Helmer are happily married (albeit with Nora infantilised by her chauvinist but benign husband) and their life is on the up. Torvald has been promoted to bank manager and their money worries seem over. But Nora has a secret debt incurred to support her husband's recovery from illness, by forging her father's signature. Her secret is known to a desperate blackmailer. Slowly, the illusion of bourgeois contentment unravels, and the play culminates in a spectacular scene between the couple as Nora is exposed and Torvald first blames her then, once the threat of ruin passes – grandiosely forgives her. Nora however cannot accept his empty 'forgiveness', seeing his denunciation as a betrayal. She accuses her husband, and her father before him, of having used her as a doll, and declares herself unfit to be a wife or mother until she has learned to be herself. She walks out on him – and their children.
This is a feminist play if ever there was one and is remarkably relevant today given it was first performed in 1879!
It has wonderful roles for both men and women – the part of Nora is one of the greatest female characters in modern theatre
About the Director
John has been an active member of Frome Drama for many years and previously directed for us two Dennis Potter plays (Blue Remembered Hills and Brimstone and Treacle), a lockdown film (Terminus) and Dangerous Liaisons by Christopher HamptonHe has directed plays and operas for many companies (including five for Bath Opera and three for White Horse Opera) and has written several plays and libretti, including Three in a Bed written for the RSC Open Stages Project, which he also directed.He is in the cast of Frome Drama's Festival play Celebration by Harold Pinter.He lives in Holt.
Characters
Nora Helmer (25-45) married to Torvald and mother of three. Appears to be playful, passive and naïve but becomes transformed by the events of the play! She is a major force waiting to be born.
Torvald Helmer (30-55) Nora's husband, just appointed Bank Director, obsessed with his new status and place in society. Benign but highly paternalsitic
Dr. Rank (50-90!) rich family friend, secretly in love with Nora. He is terminally ill.
Kristine Linde (25-45) Nora's old school friend, now widowed and urgently seeking employment. She was Krogstad's lover before choosing a 'safe' marriage to another…
Nils Krogstad (30-50) an employee at Torvald's bank, single father with a dodgy reputation. Fired by Torvald.The Children (unspecified ages but pre teen)
Emmy Anne Marie (60+) Nora's former nanny, who gave up her own daughter for adoption. She now cares for Nora's children.
Helen (unspecified age) the Helmers' maid.
The Porter (unspecified age) delivers a Christmas tree to the Helmer household at the beginning of the play.
Everyone who auditions will be notified, in person, of the outcome by the director as soon as the play is cast. We strive to make the process fair, open, inclusive and fun!
Our Next Production, Celebration at the Assembly Rooms,
13th – 15th July 2023, at 7pm
More details on the Current productions page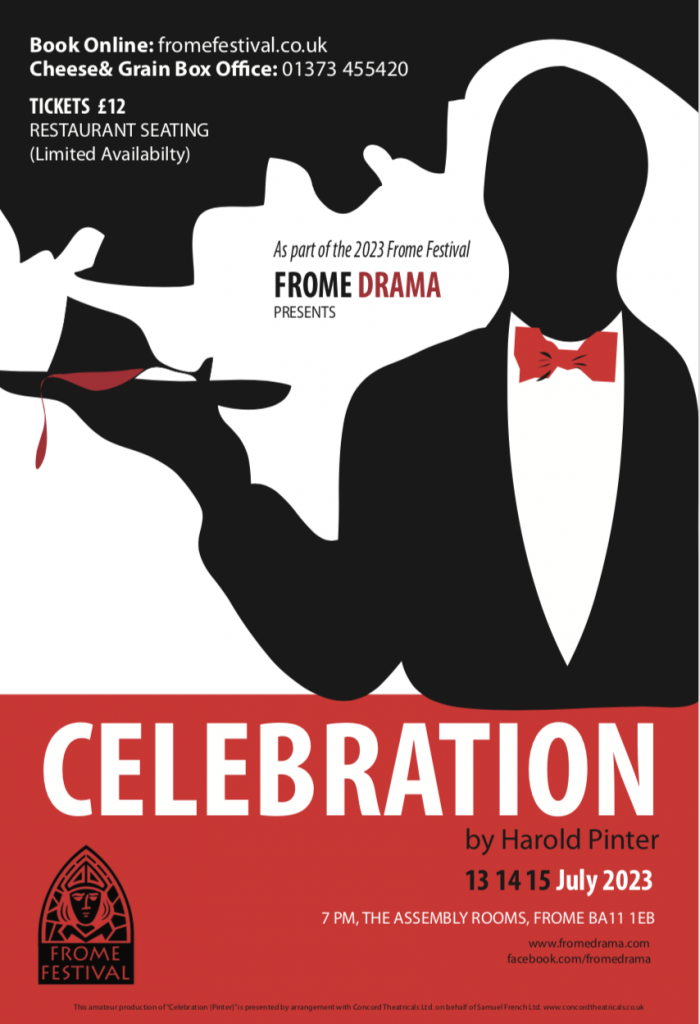 ---
New Season Director Call Out
We are now in the process of planning the upcoming Play Season ( 2023/24) for Frome Drama Club and are seeking creative, enthusiastic and ambitious directors.
For further details visit New Season Directors Wanted
Frome Drama regularly updates a list of plays that prospective directors might like to consider taking on. It's primarily there to give an idea of the general vision and ambition of the club, but if you'd like to tackle anything on the list, we'd be delighted to hear from you. You'll find the list, and more information here.