Current Production
---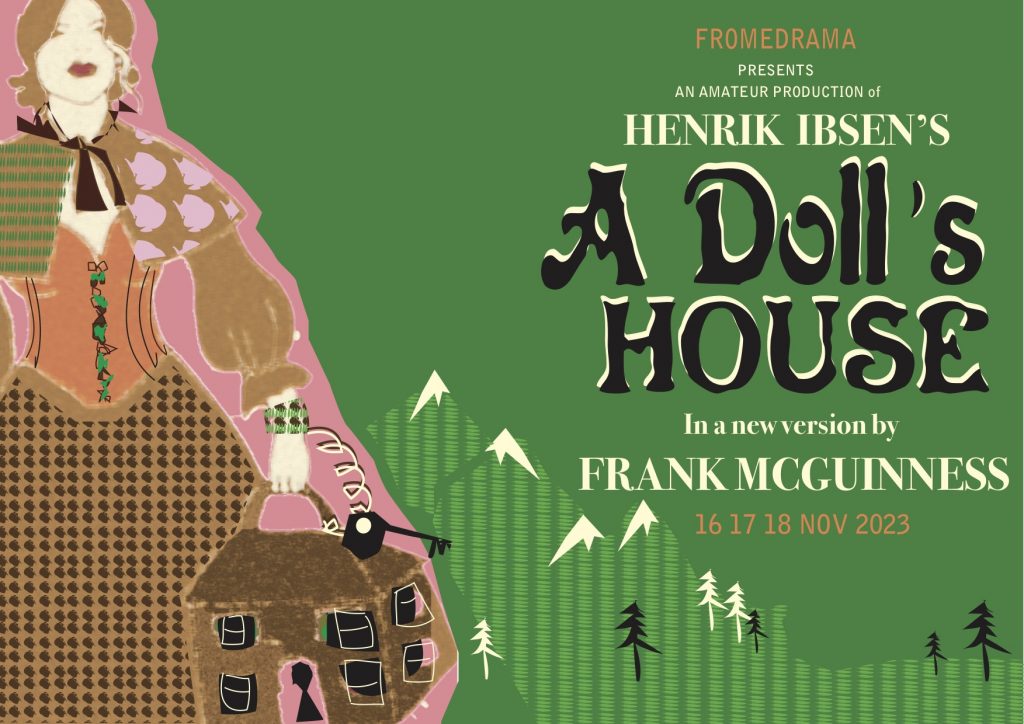 A Dolls House
by Henrik Ibsen
This Autumn, Frome Drama will Present Frank Mc Guinness' Award Winning adaptation of Henrik Ibsen's A Doll's House
A Doll's House will be performed at The Merlin Theatre, Bath Road, Frome BA11 2HG
16, 17, 18 November 2023 Start time 7.30pm
Tickets priced £14 adults and £10 concessions available from The Merlin Box Office Tel 01373 465949
Director :John Palmer Producer :Gerard Crawshaw Original Poster Design : Donna Phillips
THE STORY: Nora Helmer is a vibrant young housewife who nonetheless suffers from a crippling dependency on her husband of eight years. He, Torvald, has always done the thinking for the both of them. In order to save Torvald from a debt, and to spare his masculine pride, Nora arranges a loan without his knowledge, and does so by forging a signature. The inevitable revelation of the crime results in an unexpected reaction from Torvald: Rather than being grateful to Nora, he is incapable of accepting the pride and self-sufficiency she demonstrated in taking care of him, and he accuses her of damaging his good name. The illusions behind their marriage are exposed, and Nora wakes to feelings of self awareness for the first time in her life. Torvald is not the man she thought she knew. They are husband and wife, yes, but they are strangers as well. And in one of the most famous, and scandalous, climaxes in all of nineteenth-century drama, Nora leaves her husband and children, determined to forge a new identity from the one she has always known.
Winner of the 1997 Tony Award for Best Revival of a Play. "New, raw, gut-twisting " USA Today.
"Bold, brilliant and alive." —Wall Street Journal.
"A thunderclap of an evening that takes your breath away." —Time Magazine.
"A triumphant Doll's House . . . thrilling." —John Lahr, The New Yorker "Superb . . .
This is a play very much for today. Frank McGuinness's sprightly and spirited new version secures its place as a truly contemporary masterpiece." —Mail on Sunday (London)
We are delighted that Geoff Hunt and Sam Dent are once again collaborating to create a superb set, and we have a talented cast in place for this production, after very well attended auditions. Members are welcome to be involved backstage as we will need help with crew and set building/ painting. Please email us if you want to be part of the team.
---