Current Productions
---
The Weir
by Connor McPherson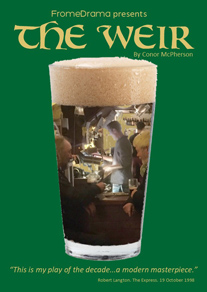 The Weir is a powerful ensemble piece with humour and pathos. Set in a pub in rural Ireland the locals spend their evenings gossiping and telling each other spooky stories. One evening a young woman from Dublin comes into the pub, and immediately the whole dynamic changes. Through banter, and strange tales the locals try to scare her, but she has a story far more powerful and unsettling than anything they have told.
First produced at The Royal Court Theatre Upstairs in 1997, The Weir then transferred to the Duke of York's Theatre in the West End in February 1998, where it played for two years. It went on to win the Olivier Award for Best New Play in 1999 and was voted one of the 100 most significant plays of the 20th century in a poll conducted by the Royal National Theatre, London.
We are lucky to have Simon Blacksell back again after his success directing Pygmalion for Frome Drama Club in 2018.
18th – 20th November 2021
The Merlin Theatre at 7.45pm
Tickets £12/10 from Merlin Box Office