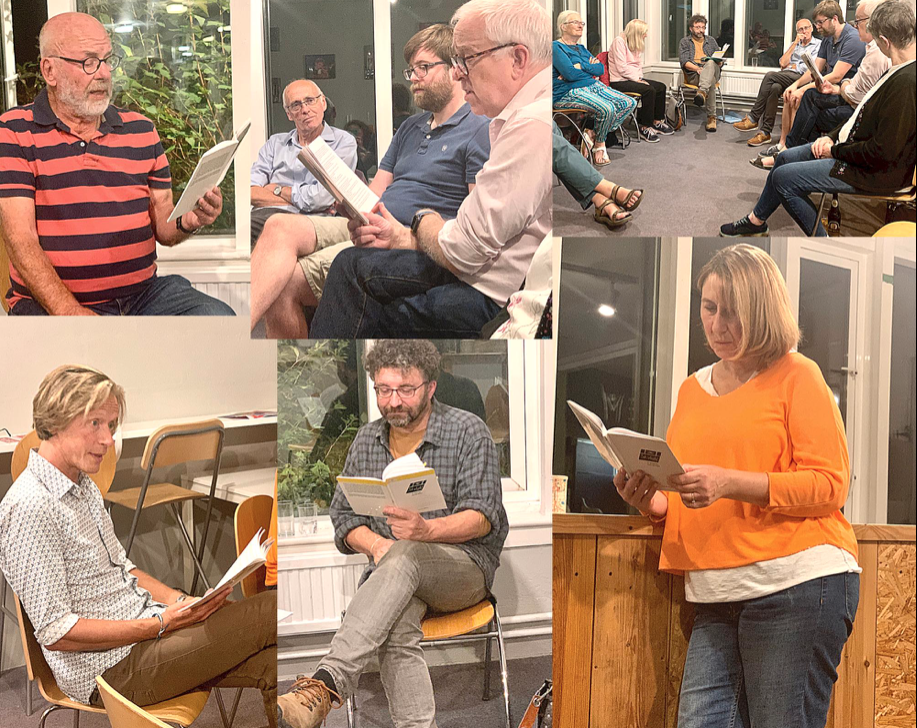 Play Readings
---
Our monthly play readings normally take place on the second Monday of the month, and we'd love to see you…
We meet in the foyer of the Merlin Theatre, Bath Rd, Frome, BA11 2HG
The bar is usually open from 7pm, and we aim to start promptly at 7.30pm.
Below, to whet your appetite, you'll find details of play readings currently scheduled, and a record of what we've read in recent years.
Everyone is welcome; you don't have to read – just listen if you'd prefer. Readings are free to attend, for members and non-members alike, but there's a collection pot if you'd like to contribute to the cost of scripts, etc.
To keep things manageable, and with one eye on the pandemic, it may occasionally be necessary to limit numbers, so it's essential that you use this link to reserve a place, and we'd be grateful if you refrained from attending if you have any cold symptoms.
---
Upcoming Readings
Monday 9th October
*The bar will be open from 7pm for a 7.30 start*
Back to our usual starting time for this month's reading. Check back soon for confirmation of which play we'll be looking at, but do come along to hear about our production for Spring 2024, which will be A Bunch of Amateurs, by Ian Hislop and Nick Newman. We're delighted to welcome the experienced director, Richard Wright, to introduce the play – his first for Frome Drama.
Please remember to use this link to let Laurie know you're coming. Thanks!
---
---
Past Readings
Sept '23
Terence Rattigan's one-act The Browning Version. A teacher and one-time brilliant classical scholar, facing demotion and ridicule by his headmaster and pupils respectively, and cheated on and despised by his wife, has a chance of redemption offered by a small gift, and an unlikely new friendship.
July '23
In The Real Inspector Hound, (one of his earlier plays), Tom Stoppard manages to skewer clichéd murder mysteries, bad acting, pretentious critics, and philandering husbands. Whilst gleefully dismantling the fourth wall, he reveals what would become increasingly obvious; not only is he one of the cleverest playwrights around, he's also one of the funniest.
June '23
A wonderful evening with David Almond's own stage adaptation of Skellig, his classic novel about a boy named Michael, and his friend, who find a strange creature in the dust and debris of a dilapidated garage. A man? A bird?An angel, even? Whatever he is, he has a taste for Chinese takeaways, and a profound affect on Michael's family. If you haven't read it yet, do yourself a favour and pick up a copy. You'll be as delighted as we were.
May '23
We read two one-act plays, starting with The Bald Prima-Donna, Eugene Ionesco's seminal, 1950 absurdist drama, set in a suburban London household. Much of the dialogue consists of non-sequiturs, and to attempt to describe the plot is probably to miss the point entirely. Does the play 'express the futility of communication in modern society'? Does it, in fact, have any meaning at all? Not a straightforward read, but still intriguing. Some of us stayed on to read Caryl Churchill's Far Away, a very short piece which, in the most understated way, gently immerses us in a dystopian nightmare. In forty minutes, Churchill delivers an emotional and intellectual weight others might struggle to achieve in three hours. One of our very best writers.
April '23
Peter Shaffer's one-act Black Comedy gave us a short, but sublime farce, set in the bedsit of Brindsley, a struggling sculptor, who is hoping to impress both his prospective father-in-law, and a millionaire art collector. To say things don't go to plan is putting it mildly. The blown fuse that plunges the house into darkness is just the start of his problems. Shaffer's famous trick, borrowed from Chinese theatre, is to reverse dark and light. At the moment the fuse blows, the stage, previously in complete darkness, is suddenly brightly illuminated. We can see the action unfold around characters who appear to be groping chaotically in the dark. With such a lot of physical action, we weren't sure how this would work as a reading, but we needn't have worried. We've seldom laughed as much at a reading…
March '23
Despite three rehearsals keeping regulars otherwise occupied, our annual Monologues evening attracted a good crowd, and the usual stimulating mix of pocket performances; classical, modern, comedy, tragedy, historical letters, and tales of murder and mayhem, with some old favourites thrown in. We even saw the introduction of some costume and props. It's never to early to start planning for next year…
February '23
In Steven Carl McCasland's Little Wars, a gathering takes place in the Alpine home of Gertrude Stein and Alice B. Toklas, on the night that France surrenders to the Nazis. With the writers Lillian Hellman, Dorothy Parker and Agatha Christie in attendance, there is plenty of entertaining verbal sparring, but this gradually gives way to something more intimate, as personal revelations lead to discussions about the moral imperatives of taking action, or speaking out in the face of wrongdoing. An intriguing play.
January '23
Good drama has the power to throw light on the present through the prism of the past. In that spirit, the great Irish poet, Brendan Kennelly, titled a collection of his Greek translations 'When Then is Now' and gave The Trojan Women, facing an unknown but terrifying future, a strong, contemporary voice. Euripides' classic gave us a fiery reading on a very icy night.
November '22
Many thanks to all who came to a special evening to introduce our programme of productions for next year. In place of our usual play reading, we heard extracts from Home I'm Darling, by Laura Wade, Celebration, by Harold Pinter and The Ragged Trousered Philanthropists, by Robert Tressell. Each play was introduced by its director, and performed at short notice by an enthusiastic band of volunteers, including many talented newcomers.
October '22
The Two Gentlemen of Verona, probably Shakespeare's first play for the London stage, and one not regularly performed, it features a heroine dressed as a boy, conflicts between friendship, fidelity and love, and the general foolishness of young men. Sound familiar? The playwright was trying out themes and situations that would appear later, in more fully realised plays , specifically, Romeo & Juliet, As You Like It, and The Comedy of Errors. Nevertheless, there is much to enjoy here, (including Crab, the dog…), and we had a very entertaining evening.
September '22
Skylight, by David Hare was the winner of the Olivier award for best play in 1996, and successfully revived in a 2014 production starring Bill Nighy, and Carey Mulligan, who played Kyra, a young and ideological teacher in an East London school. She is visited one evening in her chilly flat, first by Edward, then by Tom, his father, a successful restaurateur with whom she had an affair some years before. As she cooks a spaghetti Bolognese, we wonder if there is to be any reconciliation, personal or political, between two flawed but still appealing characters. It's a terrific play; entertaining, funny, intense and ultimately rather melancholic. Small cast, but, as usual, there'll be a chance for everyone to read.
July '22
Stones in his Pockets, by Marie Jones, a 'sad, hilarious and irresistible' play about the filming of a Hollywood epic in rural Ireland, it has a cast of two – but as those two play a good dozen other parts between them, there was plenty of scope for our readers to get their teeth into some good character work.
June '22
Emma Rice and Tom Morris's adaptation of Angela Carter's wonderful Nights at the Circus, gave us a delightfully boisterous and musical evening, as we followed the adventures of Fevvers, the angel-winged music-hall aerialiste.
May '22
Florian Zeller is a playwright with a seemingly golden touch, a string of hit shows, Olivier Awards, Tonys, an Oscar, etc. The Father centres on a woman and her father, as he develops dementia. The play toys with time, and there are echoes of both Pinter, and King Lear. There is comedy amongst the tragedy, and it's a five-star play that constantly confounds one's expectations.
April '22
J B Priestly enjoyed a long and successful career, as novelist, essayist, radio and television presenter and, not least, dramatist. Of his more than two dozen plays, seven are collectively referred to as the 'Time Plays' – Dangerous Corner (1932) and An Inspector Calls (1945) being the best known. Between them, in 1937, came Time and the Conways, a many-layered work that takes in the political history of Britain between the wars, a universal tragedy, a family romance and a metaphysical examination of Time. Priestly was influenced by the work of the philosopher J W Dunne, who suggested that past, present and future exist simultaneously, and that the concept of Time is the only way that the human mind can process this.
March '22
In our playreading calendar, March can only mean one thing; Monologues Night, when we each choose a piece of dramatic writing to share in a friendly and supportive setting. As ever, we were introduced to a wide range of theatrical treats and surprises. High drama, tears, laughter, classics, original writing; monologue night has them all…
February '22
A new year of play readings began in a new venue, in the Merlin Theatre's foyer, where we read the play that announced Tom Stoppard as a major voice in British theatre. Rosencrantz and Guildenstern are Dead takes two peripheral but doomed figures from Hamlet, and repositions them at the centre of their own existential dilemma. Drawing as much inspiration from Beckett's Waiting for Godot as from its Shakespearean source, this philosophical comedy is full of witty dialogue, and reflections on death, predestination, and the roles we play as we try to make sense of life in a confusing world.
November '21
Federico García Lorca's Yerma, the poetic tragedy of a young woman in rural Spain, whose fervent desire for a child is thwarted by her husband's opposition, and her own sense of duty and morality.
Pitting an elemental Paganism against the prevailing, repressive Catholicism and social conservatism of Spain in the 1930s, the second of Lorca's celebrated 'Rural Trilogy' was the work that most aggravated his critics, and may well be associated with the poet's murder by fascists at the outset of the Civil War.
October '21
1663. The Playhouse Creatures of April de Angelis' title are five Restoration actresses, who have, for better or worse, grasped the new opportunity to tread the boards, and whose delivery of heroic speeches from the classical repertoire is undercut with frantic scenes from the dressing room.
Although the tone of the play is broadly comical, it is tempered with poignancy and tragedy, as we learn that such fame and fulfilment as the women gain is inherently precarious, their profession exposing them to prejudice, expectations, and unwelcome attention.
First produced in 1993, the play has become a well-loved challenge for an all-female cast. At our readings we are all in favour of gender and age-neutral perspectives, but, alas, on this occasion, not one gentleman turned up. Very much their loss, as this was a very enjoyable read!

September '21
Our first face-to-face reading for 18 months, saw us returning to the rich pastures of Craig Taylor's One Million Tiny Plays About Britain, which gave us two excellent evenings' entertainment five or six years ago. A delightful collection of humorous and poignant vignettes to help refresh our reading and performance skills.
June '21
With our John Fletcher reading having gone down so well, in April, and the year's schedule of public performances being so resolutely modern, we indulged in another Fletcher – this time written with his usual collaborator, Francis Beaumont, and first produced in 1607. The Knight of the Burning Pestle is often cited as the first example of an English parody play. It's both a satire on theatre audiences, (and critics), and a meta-play, in that we see a company bravely trying to keep their play on course, whilst assailed by unexpected interventions from the audience. A London citizen, (a prosperous grocer), and his wife interrupt the opening of 'The London Merchant.' It's not at all the kind of thing they want to see, (and indeed, turns out to be a satire of the emerging middle classes they represent). They demand instead a chivalric romance. The players complain there's nobody to play the hero, so the grocer offers his apprentice, Rafe, to fill the role. The satire may be subtle, but there is plenty of broad humour and sexual innuendo. A good time, needless to say, was had by all…
May '21
Concluding a trilogy of plays exploring 16th and 17th century gender issues from both Tudor and modern perspectives, we read Ella Hickson's Swive:Elizabeth, which sets out to "throw light on contemporary issues by looking through a historical prism," and follows the difficult, often morally compromised choices made by one remarkable woman in a largely patriarchal society, as she moves from vulnerability to absolute power as Queen Elizabeth I.
April '21
John Fletcher, who took over from Shakespeare on the latter's retirement as principal playwright for The King's Men, having earlier collaborated with him on a number of plays, also wrote The Tamer Tamed, a sequel to The Taming of the Shrew. Picking up the original story some ten years on, we find that Petruchio has just married his late wife Kate's cousin Maria – but isn't about to get things all his own way this time. We explored Elizabethan misogyny from a 20th century perspective in our earlier reading of Emilia, but here, in Fletcher's passionate call for true equality and partnership, was a chance to see that some attitudes were perhaps a little more nuanced. It was also a lot of fun.

March '21
Monologues. March is now firmly established as our monologue month, when you choose a piece of dramatic writing to perform to a friendly and supportive audience. As usual, the choices were eclectic, the performances electric, and the Zoom platform (mostly) conducive. It's worth mentioning that exceptional circumstances of the last year have led to an explosion in the amount of new writing for the solo, socially-distanced performer, with much of it available online. Something to remember whilst you wonder what to learn for next March!
February '21
Emilia. Emilia Bassano, (1569-1645), was the daughter of an Italian musician in the English court, one of the first published woman poets, a mother, a teacher and a proto-feminist. In a play that rouses its audience to a pitch of fervour, Morgan Lloyd Malcolm turns her into a symbol of women down the ages who have struggled to make their voices heard, portraying Emilia as a wild, passionate and fiercely intelligent woman. She was undoubtedly a contemporary of Shakespeare, but was she also his lover, the inspiration for the dark lady of the sonnets and, as a fellow poet, someone whose words the bard freely borrowed?
January '21
The Curious Incident of the Dog in the Nighttime, Simon Stephens' stage adaptation of Mark Haddon's 2003 novel, ingeniously takes the form of a play-within-a-play, and tells the story of Christopher, a fifteen year old boy, who discovers the body of a neighbour's dog, and decides, despite his father's advice, to investigate its murder. Whilst autism and Asperger's syndrome are never explicitly mentioned, Christopher, (who describes himself as "a mathematician with some behavioural difficulties"), faces many challenges as he uncovers more truths than he bargained for.
December '20
Unable to have a proper Christmas get-together, we thought a reading of Alan Ayckbourn's Season's Greetings might cheer us up. Ayckbourn, arguably our most reliable chronicler of domestic desperation, gathers an extended family together for Christmas, gently and compassionately revealing their faults and foibles. A good, fun read, and a great social occasion.
November '20
Our first full reading via Zoom was All My Sons, Arthur Miller's first success as a playwright. In its examination of individualism taking precedence over responsibility to the community, it shares something with An Inspector Calls, and is more than a little influenced by Ibsen's The Wild Duck. It was lovely to see so many familiar faces again!
June & July '20
Missing our regular monthly readings, and rather stuck at home, we thought some Lockdown Monologues would keep us all in touch. The ubiquitous Zoom lent itself well to the format, and we'll almost certainly use it again, so keep looking for suitable monologues to share!
March '20
Congratulations to everyone who contributed to our fourth annual evening of dramatic monologues – performers and listeners alike. It was particularly pleasing to see several new faces. As ever, we enjoyed a wide range of material, ranging from the earliest, (Marlowe's Tamburlane), to the latest, (2019 Olivier Best Play The Inheritance). The emphasis this year, though, was primarily on the lighthearted, with Alan Bennet's Talking Heads featuring strongly. It's never too soon to start planning a piece for next March…
February '20
We thoroughly enjoyed The Penelopiad by Margaret Attwood. As portrayed in Homer's Odyssey, Penelope – wife of Odysseus, cousin of Helen of Troy – has become a symbol of wifely devotion, enduring twenty years of waiting for her husband to return from the war. As she fends off a hundred suitors, travelling minstrels regale her with tales of Odysseus' Mediterranean adventures amongst monsters and amorous goddesses. When he finally comes home, he kills her suitors and then, in an act that served as little more than a footnote in Homer's story, he hangs Penelope's twelve maids. In Attwood's stage adaptation of her own novel, first staged at the RSC in 2007, Penelope and her chorus of wronged maids tell their side of the story.
January '20
Neil Simon's Last of the Red Hot Lovers, (1969) concerns Barney, married, middle-aged proprietor of a fish restaurant, who feels the decade of the permissive society has passed him by, and sets out to catch up with the sexual revolution through a series of extramarital trysts. To cut a long story short, things don't work out quite as he planned. Simon writes brilliant comedy dialogue, which he combines with a compassionate understanding of human nature in all its well-meaning weakness.
November '19
J.B. Priestley's An Inspector Calls (1945), fell out of favour after the rise of the social realist theatre of the 50s and 60s, wrongly dismissed as a bourgeois, drawing-room drama. It's anything but that, but what actually is it? Parable? Morality tale? Manifesto? The twist at the end reflects Priestley's abiding fascination with ideas of non-linear time, and the play grips and intrigues.
October '19
Shakespeare's Sonnets, 154 poems filled with love, longing, lust and melancholy reflection, are among the most renowned achievements of English literature. A good crowd of us brought along some of our favourites to read or recite, (we covered about 10% of the total), and a fascinating discussion ensued, informed by a look at the structure and context of each of the poems read, and, more importantly, our own responses.
September '19
Cider With Rosie, Laurie Lee's beautiful account of growing up in the Cotswolds in the early years of the 20th century, was an ideal read for the end of summer The adult Laurie narrates, as the cast play out scenes from his bucolic childhood. James Roose-Evans' stage adaptation distils all the charm and poetry of the original.
July '19
Christopher Hampton's recent fame has been as a translator of the hugely successful plays of Yasmina Reza and Florian Zeller, but we read The Talking Cure, his haunting and compelling take on the personal and professional relationships of Freud, Jung and Sabina Spielrein, an early subject of the new technique of psychoanalysis. A fascinating woman in her own right, Spielrein also went on to become an influential and pioneering psychoanalyst.
June '19
With 'gaslighting' becoming the recognized term for a particular form of domestic abuse, we reminded ourselves where the word comes from. Patrick Hamilton's Gaslight, part detective yarn, part psychological study, written in 1938, but set in Victorian London, tells the tale of Jack Manningham, an ostensibly patient man, and Bella, his unstable, occasionally hysterical wife of seven years.
May '19
Very last-minute, as our original play choice wasn't available; we read Caryl Churchill's A Number. First produced in 2002, (whilst Dolly the Sheep was still alive), it concerns the idea of human cloning. Salter, a man in his sixties, meets three of his offspring, in a play that doesn't debate the ethics of cloning, but rather takes the possibility as a starting point for an examination of basic human questions, notably, 'what is the source of personality? There was also time to read a curious little vignette by George Bernard Shaw, The Dark Lady of the Sonnets.
April '19
Many thanks to all the record-breaking crowd who turned up to read Tom Stoppard's Arcadia, arguably the finest work by one of our finest playwrights. The sheer weight of numbers made for a long evening in what became an uncomfortably warm room; not the ideal conditions to explore such a richly layered play, but some excellent reading ensued, and we now have a clearer idea of the wealth of ideas, the quality and humour in the writing, and the challenges inherent in presenting this as our autumn production at the Merlin Theatre.
March '19
Our third annual evening of Dramatic Monologues. More than a score of short performances delivered to (and by) a discerning and supportive audience. The usual variety of material and quality of delivery. What are you going to bring next year?
February '19
Inspired by the 'Pinter at the Pinter,' season, we read The Dumb Waiter; a tense, sometimes hilarious piece, occasionally verging on the absurd, in which two hitmen await, we assume, the arrival of their victim. Inspired by that in turn, we read Rough For Theatre II, by Pinter's friend and near contemporary, Samuel Beckett, in which two auditors, or bureaucrats, enter a room where a third man stands at an open window, apparently on the point of jumping. Reading assorted witness statements and supporting documents, they weigh up whether or not he should take his own life. Possibly. As the room was full, and the night was young, we also dashed through Tom Stoppard's 15 Minute Hamlet. In 15 minutes.
January '19
Carol Shields is better known as an award-winning novelist, but she was also a playwright. Departures and Arrivals plays out in a Canadian airport, as a series of 22 vignettes. In her own words, it is 'a comedy with edges,' concerned with 'the human appreciation of the public place as a venue for the theatrical sense that enlarges ordinary lives'.
November '18
Dario Fo's Cant Pay, Wont Pay! a political farce about working class families liberating a supermarket in the face of spiralling food prices, should, by rights, have stayed where it began, in 1970s Italy. However, the play's enduring quality, and the fact that, 43 years after the play opened, there were 1.2 million visits to UK foodbanks in 2017, have seen it regularly revived, and still relevant. We enjoyed a great reading of Fo's Accidental Death of an Anarchist a while back, and this proved another fast-paced, hysterical comedy to have fun with. Whatever your politics.
October '18
We read the excellent How To Disappear Completely And Never Be Found, By Fin Kennedy, a play about identity and the traces we leave on the world around us. Inspired by the website of the National Missing Person's Helpline, and the subsequent discovery of a guide to changing one's identity. What makes you authentic? And how do you know you're real? These may not be new questions, but they are more relevant than ever, and no less terrifying or unanswerable.
September '18
Serge buys a piece of minimalist modern art for a vast sum of money, and invites his friends Marc and Yvan to see it. The simple set-up of Yasmina Reza's comedy, Art, leads to a fascinating examination not just of the nature of art, but of the nature of friendship. How honest and open can friends be with each other? How much diplomacy, evasion and hypocrisy is needed to keep a friendship, or a society, perhaps, intact?
August '18
As usual, no reading in August, culture vultures, but enjoy your summer, and put September 10th in your diary, when we'll reconvene for an autumn season of to-be-confirmed readings.
July '18
Blue Remembered Hills will be our production for spring 2019, under the direction of John Palmer, who joined a couple of dozen of us to read Dennis Potter's deceptively simple play set in the Forest of Dean in the summer of 1943. Adult actors play seven-year old children, and we are invited to see their aggressions, fears, and rivalries as a microcosm of adult interaction, whilst questioning any preconceptions we might have about the innocence of childhood. We also (just) found time to read Potter's Brimstone and Treacle, a cautionary, Mephistophelean drama which the BBC considered too controversial to show, delaying its broadcast for ten years. After some trimming, this will form the second half of our Potter double-bill.
June '18
Albion, the latest by Mike Bartlett, currently riding high on the success of King Charles III, and Doctor Foster. With its state-of-the-nation concerns, wrapped up in an unfolding family drama, and clear nods to Chekkov, Shaw, and Tom Stoppard's Arcadia, we found this a timely play. As the world changes around us, what should we hold onto? what should we let go of?
May '18
Fast assuming the status of a modern classic, Conor Mcpherson's The Weir is set in a small bar in the west of Ireland, where a small group of locals pass a stormy evening spinning haunting, ghostly tales for a young woman from Dublin. Although we get the sense they have told their stories many times, the retelling reveals much about themselves, their loneliness and private anxieties, and the rural community they inhabit. As the drinks go down, the humour and banter grow a little darker around the edges, and then the visitor tells her own story. Each time we read an Irish play, the accents seem to be a little bit better…
April '18
George Bernard Shaw's Pygmalion, the story of Henry Higgins, a professor of phonetics, and Eliza Doolittle, the flower seller he thinks he can pass off as a duchess, is our Autumn production this year, and our reading of this 20th century classic drew a big crowd. Hopefully the production will, too…Running a little late, we had no time to read Shaw's postscript, written to correct certain misassumptions about What Happened Afterwards. If you'd like to read it follow this link.
March '18
By popular request, another evening of dramatic monologues. A score of performers brought life to characters from Pinter, McDonagh, Bennett, Webster, Bovell, and many more. We learnt, laughed, and cried, and were entertained and terrified in equal measure. And yes, we will do it again…
February '18
We read poet Robin Robertson's modern translation of Medea, Euripides tale of betrayal and revenge, probably the Greek tragedy most frequently performed in the modern era. Still shocking, two and a half millennia after its first performance.
January '18
Our first reading of the year was Top Girls, by Caryl Churchill. First produced in the third year of Thatcher's premiership, it has retained its relevance as an examination of the price paid to gain power, and the price of powerlessness. With great dramatic skill, and an absence of heavy-handed dogma, Churchill raises questions of gender, politics, and personal choice.
November '17
An entertaining reading of Graham Linehan's 2011 stage adaptation of Ealing classic, The Ladykillers. In this delicious black comedy, a sweet little old lady, Mrs Wilberforce, is pitted against a ruthless gang of misfits, led by would-be criminal mastermind, Professor Marcus.
October '17
A Voyage Round My Father, John Mortimer's emotionally delicate, autobiographical play about his blind, eccentric, Shakespeare-loving, barrister father, drew a good crowd of readers, including several welcome new faces, and gave us a good evening's entertainment.
September '17
Laura Wade's Colder Than Here, examines, with great tenderness, humour and sensitivity, how a family start to come to terms with the imminent death of the wife and mother, as they tentatively find new ways to communicate with each other.
June '17
We had fun with Patrick Barlow's Olivier Award-winning adaptation of John Buchan's classic, 1915 spy novel, The 39 Steps. The women were beautiful, the villains were deadly, the upper lips were stiff, and the accents cut-glass.
May '17
In this new era of "Fake News," Howard Brenton and David Hare's, Murdoch-inspired 1985 satire, Pravda, turned out to have been prophetically accurate, as well as highly entertaining.
April '17
Calum Grant led a reading of Richard Bean's highly successful One Man, Two Guvnors, which he will direct for the club in the autumn. Adaptated from Carlo Goldoni's Commedia dell'arte original, Servant of Two Masters, it relocates the action from 1743 to Brighton in the early sixties.
March '17
Instead of reading one play, we invited you to prepare a dramatic monologue to share, and enjoyed one of our busiest, and most exciting Monday nights. 21 pieces, all under five minutes, varying from Shakespeare to Victoria Wood, (and including several originals), all delivered with passion, humour and panache, to a very appreciative audience. Take note; we will definitely be doing this again, so why not start learning something for the next one, now?
February '17
It's official; the Northumbrian accent really is the hardest to reproduce, particularly for the soft southerners amongst us. Hats off, then, to the readers who made such a good job of Lee Hall's moving, and very funny, The Pitmen Painters, the true story of the Ashington group of coalminers who achieved artistic recognition in the 30s and 40s, and now have a permanent gallery dedicated to their work.
January '17
We tackled Tony Harrison's The Trackers of Oxyrynchus. High and low culture, hilarity, horror, and Yorkshire accents – but we stopped short of the clog dancing and the extravagant phallii.
November '16
Our last reading of the year was Henrik Ibsen's deeply weird late masterpiece, The Master Builder.
October '16
By popular demand, we returned to, (and still didn't finish), Craig Taylor's One Million Tiny Plays About Britain, acting out a bewildering, and highly entertaining cast of characters and situations.
September '16
We read two of the many radio dramas Louis MacNeice created for the BBC, cited as "the best creative work done for the medium in its twenty year heydey, before television captured the audience."
June '16
We enjoyed Tartuffe, in Roger McGough's jolly verse adaptation, which finds every drop of humour in Molière's tale of a family divided by the devious, titular interloper.
May '16
"Unarguably one of the best dramas of the twenty-first century," said the Guardian, andJez Butterworth's Jerusalem didn't disappoint an enthusiastic crowd of readers, who relished the strong characters, (and the Wiltshire vernacular).
April '16
Half a dozen of us gathered to read Caryl Churchill's Cloud Nine; a surreal, frequently very funny and forthright exploration of colonialism, sexual repression and conditioning, in which wives are played by men, and sons by women.
March '16
Alan Bennett's adaption of Kenneth Grahame's classic, The Wind in the Willows, gave us a great evening's entertainment, and many thought it a candidate for a future production. Particularly memorable was the whole cast's redition of "In the Bleak Midwinter" – as fieldmice…
February '16
With David Riley planning to direct Peter Shaffer's The Private Ear as our summer festival production, we read it with its usual companion piece, The Public Eye. They're bittersweet comedies, exploring the tension between order and passion.
January '16
A Month in the Country by Ivan Turgenev. We read the Emlyn Williams version. This 'passionate, moving comedy', which is on our list of possible future productions, contrasts the genteel languor of country life with the desperate passions beneath the surface.
November '15
We enjoyed Craig Taylor's One Million Tiny Plays About Britain, a collection of vignettes, each no more than a page or so long, funny, poignant and thought-provoking in turn. As we only got about half way through, there was a general feeling that we would return to these in 2016.
October '15
Harold Pinter's once reviled, now revered, The Birthday Party was led by Cheryl St George, and prompted some interesting discussion
September '15
Steve Scammell led us through The Tempest, which he will direct for the club in Autumn 2016.Shakespeare's late masterpiece offered plenty of magic, humour and some imaginitive characterisation.
July '15
Constellations, Nick Payne's award-winning two-hander about free will and friendship, quantum multiverse theory, love, death and honey, impressed us all. It's a short piece, packed with ideas, full of humour, and with a real heart to it. We introduced a suitably random structure to the reading…
June '15
A noble attempt to get to grips with J.M. Synge's interpretation of rural Irish vernacular, as we read The Playboy of the Western World, enjoying its rich mix of tragedy and comedy, and wonderful language.
May '15
A couple of dozen of us read Keith Dewhurst's adaption of Lark Rise in a variety of Oxfordshire-ish accents, enjoyed the music, sang lustily, and wondered how this would play in Frome as a promenade-style production.
April '15
After a few hefty dramas, we lightened the mood somewhat…..with a tale of death and the supernatural! Noel Coward's 1941 perennial farce Blithe Spirit is currently on our list of possible productions so we took the opportuntiy to unleash a few hidden Madame Arcartis. It was a great read – who would've foreseen that!
March '15
Keely Beresford led a reading of Thornton Wilder's American classic, Our Town. It was extremely well attended and very much enjoyed. One to watch perhaps in respect of future FDC productions………
February '15
Tina Waller led a reading of The House of Bernada Alba, the final, and aguably the finest of Federico Garcia Lorca's plays.
January '15
Laurie Parnell led a fast-moving, wildly funny and bitingly satirical reading of Accidental Death of an Anarchist by Dario Fo.
November '14
Calum Grant led a reading of Say Goodnight to Grandma by Colin Welland, a wry modern comedy set in t'North.
October '14
We read Mrs Warren's Profession, by George Bernard Shaw, and thoroughly enjoyed this superb piece of writing and the sexual politics which inspired it.
September '14
We had an enormous turn-out for Henry Fielding's Tom Jones – almost ran out of chairs! A great read, obviously very popular, and bodes well for the Club's Spring Production next year.
June '14
There were 10 of us to read Amadeus by Peter Shaffer; an ideal number, which gave everyone a chance at the very demanding role of Salieri. A thrilling evening.
May '14
Another great turnout for Arcadia by Tom Stoppard, led by Laurie Parnell.
April '14
The Visit by Friedrich Durrenmatt, led by Mike Walker – an unusual and thought-provoking play; not to everyone's taste but we certainly appreciated the quality of the writing.
March '14
Ring around the Moon by Jean Anouilh in the translation by Christopher Fry – very well attended and much enjoyed.
February '14
Jump to Cow Heaven by Gill Adams. This reading of our 2014 Frome Festival production to be directed by Tina Waller gave us a foretaste of a great production later in the year.
January '14
The Ruling Class by Peter Barnes occupied a record turnout of readers in the New Year.
November '13
Comfort & Joy by Mike Harding got us well and truly in the mood for our own Christmas celebrations!
October '13
We read and enjoyed Two Planks & A Passion, by Anthony Minghella.
September '13
After our summer break we read Abigail's Party by Mike Leigh which will be our Spring 2014 production.
July '13
To bring our play reading season up to the summer recess we read The Pillowman by Martin McDonagh.
June '13
Ahead of our autumn production we read A Chorus of Disapproval by Alan Ayckbourn .
May '13
Agatha Christie's Witness for the Prosecution attracted a good crowd who provided a suitably dramatic gasp as the denouement was played out!
April '13
Anton Chekhov never goes out of fashion and this month we enjoyed two of his finest one act comedies or vaudevilles, The Proposal and The Bear.