The Weir
By Conor McPherson, Directed by Simon Blacksell
November 2021
---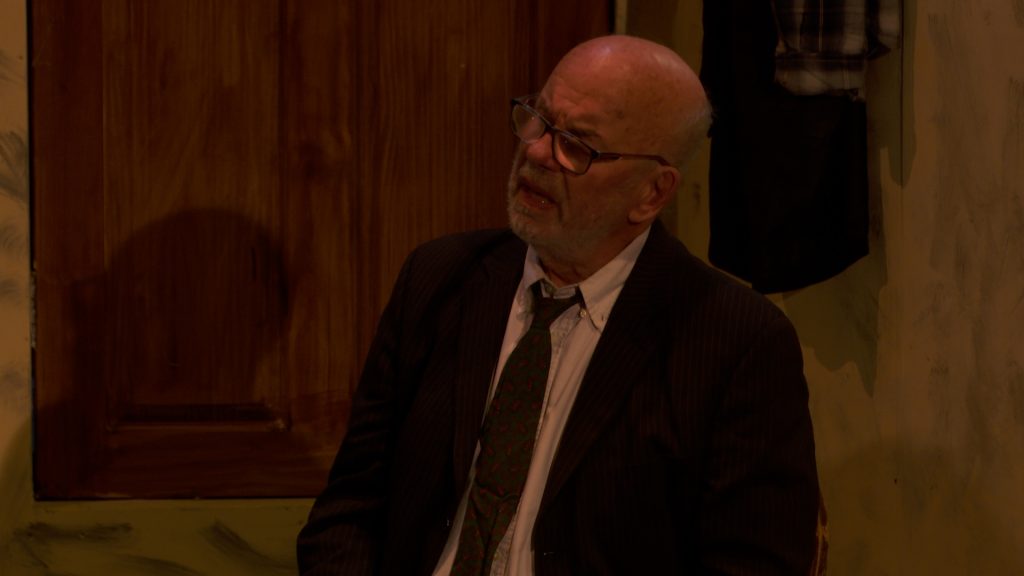 There are moments when the magic of theatre is almost tangible, seconds or even minutes when a whole auditorium holds its breath, intense passages when even the stage lighting seems to change subtly, and you don't know whether it's the lighting engineer's skill or your brain that is lowering the level. Conor McPherson's The Weir is one of those rare works of theatrical genius that can exert that power. It is an amazing achievement for an amateur group to capture the ephemeral spirit of this play.
Since it was first staged at the Royal Court in 1997, it has been recognised as one of the greatest plays of the 20th century, garlanded with critical acclaim and performed in many languages around the world.Yet it is difficult to describe, a fragile web of stories, punctuated by repeated drinks, "a glass" or "a small one," while the wind whips around the little bar in a remote Irish rural community somewhere near Carrick.
Almost nothing happens – yet the lives of the five people in the bar will be changed for ever.
It starts, rather like one of those endless pub jokes – a man comes into a bar … He pours himself a drink, so you know he's a regular. The barman (Brendon) comes in and they exchange some chat about their day – Jack, the customer, has been to the races and won a bit. Another man comes in, another regular, Jim, a kindly soul who still lives with his aged mother. There is more chat and banter – and some news. Finbar, who left the village and came back to run a hotel in a nearby town (and has a way with the women), has been seen driving around with a woman who is said to have bought a house in the area. The man and the woman arrive. He introduces her as Valerie. Jack and Jim and Finbar take it in turns to tell ghostly, spooky, scary stories about the village, and even about the house that Valerie has taken.
A lot of drink is consumed. The wind continues to whip around the building. The night wears on. Finally, Valerie, the stranger from Dublin, whom they have all been trying to impress, tells her story. It stops them in their familiar, well-worn tracks. It lowers the temperature in the theatre, and we all sit there, hardly daring to breathe as she tells her terrible, true story.
The Weir is a great play which requires remarkable performances and it gets them from Simon Blacksell's cast of five at Frome's Merlin Theatre.
From the moment Jack (David Dunn) saunters in, helping himself to a glass, and he and Brendon (Marc Bessant) begin to talk, we are eavesdroppers, captivated by the lilting rural Irish accents of these two old friends, of Jim (Richard Moore) and the edgy Finbar (Laurie Parnell). Only Valerie (Rosie Allerhand), the urban stranger, has a different accent. Funny, scary, scratchy, sad … the conversation twists and turns. It seems it will end on a tragic note, but the resilience of the human spirit shows through. There is still kindness and hope of healing. It is a wonderful, poetic play, given a splendid production by Frome Drama.
Fanny Charles for Fine Times recorder
From members of the audience
"That was astonishingly good. You and your cast mates knocked it out of the park.. I saw it originally in the West End, and it was every bit as good. Loved it"

"Fantastic performances all round."

"It was skilfully and sensitively directed and beautifully performed"

"A great performance from everyone. I thought I was watching real people on stage rather than actors acting a part"

"An amazing achievement …. a great play which requires remarkable performances and it gets them….. a wonderful, poetic play, given a splendid production"